Asphalt, Bluecrest, Black, Blue Haze, Blue Night, Blue Yonder, Bright White, Charcoal Heather, Cloud Burst, Crimson, Crimson Heather, Dark Forest, Dark Marl Grey, Dark Rum, Desert Heather, Duffel Bag Green, Firestarter, Gold Coast, Grey Heather, Harvest, Husk, Indigo Heather, Navy Heather, Nine Iron, No Fear Red, Red Clay, Red Clay Marl, Sand Heather, Seamaster, Sharkskin, Smokey Mountain, Stonewash, Storm Heather, Total Eclipse Blue, Total Eclipse, True Black, Weldon Blue, Whisper White, Wild Plum, Plum Heather, Spruce Heather, Gargoyle, Moonstruck, Laurel Canyon, Cactus, Sandstorm, Covert Green, Monument Grey, Indigo, Black Sky, Rum Swizzle, True Navy, Nine Iron Heather, Birch, Tornado Grey, Aegean Blue, Alloy, Sun Dried Tomato, Navy, Bijou Blue, Camo Green, Walnut, Stealth Grey, Coronado Blue, Cendre Blue, Metro Blue, Blue Moon, Medium Grey Heather, Aquifer, Warrior Red, Bright Cobalt, Aquatic, Matcha Green, Cliff, Rescue Orange, Taxi, Blue Heather, Bluelight, Grey Heather Pocket, Desert Heather Pocket, Ember Pocket, Summit Blue Pocket, Rust Pocket, Forever Blue, Ember, Cava, Rum Swizzle Pocket, Mariner, Dean Blue Pocket, True Black Pocket, Total Eclipse Blue Pocket, Monument Grey Pocket, Airstream Pocket, Open Skies Pocket, Red Brick Pocket, Yew Pocket, Aegean Blue Heather, Brown Heather, Charcoal, Mai Tai, Kentucky Blue Heather, Haute Red, Parish Blue, Purple Dye, Redwood Heather, Russet Heather, Yew, Black Donegal, Charcoal Donegal, Strong Blue, Calder Blue, Russet, Purple Fog, Rust, Dean Blue, Red Fern, Dried Fig, Summit Blue, Red Brick, Open Skies, Goldcoast, Port, Mushroom Heather, Sunkissed, Covert Green Heather, Port Heather, Taxi Heather, Shades of Grey, Shades of Blue, Cactus Heather, Americana, Sequoia, Walnut Heather, Monument, Racing Blue, Petrol, Hunt Green, Pinot Noir, Blue Haze / Weldon Blue, True Navy / Rescue Orange, Cool Heathers, Dried Fig Heather, Skydiver Heather, Anthracite Heather, Blue, Arcade Red, Frost, Red, Porto, Asphalt Heather, Mixed Colors, Red, Grey Heather / Dean Blue, Bright White / Warrior Red, True Navy / Grey Heather, Graphite Heather, Malbec Heather, Monument / Weldon Blue, Mobile Blue, Rum Heather, Sergeant, Purple Smoke, Porto Heather, Riptide Heather, Yew Heather, Steel, Indigo Dye, Infantry, Bluelight Heather, Thunder Heather, Rescue Orange Heather, Airstream, Motorboat, Seagrass, Plum Heather, Royal Palm, Blue Glass, Wild Mushroom, Newport Blue, Moss Heather, Deep Purple Heather, Cork, Charcoal Heather | Infantry, Grey Heather | Red Fern, Total Eclipse | Indigo Dye, Primary, Riptide, Mixed Heathers, Asphalt / Total Eclipse, True Navy / Charcoal Heather, Sergeant / True Black, Spring, Brights, Navy Space Dye, Total Eclipse / Petrol, Duffle Space Dye, True Black / Walnut Heather, Duffle Bag, Seagrass Heather, Red Hot Heather, Sergeant / Grey Heather, Charcoal Heather / Dark Forest, True Navy / Dean Blue, Rust / Total Eclipse / Firestarter, Summer, Hibiscus, Bluenote, Atlantic, Fireworks, All Together, Matcha, Redwood, Weldon Blue Heather, Blue Heather, Murray Red, Bodhi Blue, Total Eclipse / True Navy, True Black / True Black, Grey, Bluelight / Grey Heather, Cactus / Grey Heather, Walnut / Grey Heather, True Black / Crimson Heather, Blue Haze / Total Eclipse Blue, Douglas Fir, Black Plum, Aegean Blue Heather, Ash, Kentucky Blue, Chrysanthemum, Porcelain, Steam, Black Plum Heather, Gulfstream, Husk, Charcoal Heather / True Black, Total Eclipse / True Black, Duffle Bag Green, Gulfstream Heather, Coolant, Forest Heather, True Navy Heather, Hunt Green Heather, Asphalt Heather / Charcoal Heather, Navy Heather / True Navy, Asphalt / Navy Heather, True Black / Anthracite Heather, Crimson / Charcoal Heather, Medium Grey Heather / True Navy, Steel / True Black, True Black / Anthracite Heather, Asphalt / Navy Heather, Fall Foliage, Fire Pit, Cloudy Skies, Manhattan, Cool Down, Parachute, Lakeside, Camping, Evergreen, Commando, Total Eclipse Blue / True Black, Ivy, Rainforest, Classics, Mixed Solids, Succulent, Ultraviolet, Total Eclipse Heather, Arctic, Sunset, Mixed, Solstice, Aquarium, Shoreline, Winter, Dawn, Alpine, Carbon Heather, Succulent Heather, Sunrise, Blue Stone, Alloy / Canvas, Rust / Canvas, Solid Variety, Propagation, Sunrise Heather, Ultraviolet Heather, Black / Canvas, Bluelight Heather / Cactus Heather, Walnut Heather / Blue Haze, Blue Ice Heather, Vista Blue, Billiard Table Heather, Punch Drunk, Denim Blue, Hightide Heather, Boxwood, Grey Heather / Black, Total Eclipse / Charcoal Heather
||s:Small,||m:Medium,||l:Large,||xl:XLarge,||xxl:XXLarge
AIRKNITx Crew Sock
$24
Unlock 20% off and free shipping in Weldon Blue. Learn More.
click to zoom
Breathable microfiber

Anti-odor Ionic+™️ silver

Targeted cool zones
Our breathable athletic sock keeps your feet dry and fresh, with compression and cushioning for high-impact support.

Materials & care
70% Nylon / 24% Polyspun / 3% Spandex / 3% Ionic+™️ Nylon

Machine wash cold.

Tumble dry low.

Imported
The Fabric
AIRKNITx + Ionic+™️ silver
Our microfiber blend maximizes airflow and wicks moisture for lasting dry comfort. We infused each compression footbed with real, antimicrobial silver to keep your feet fresher for longer.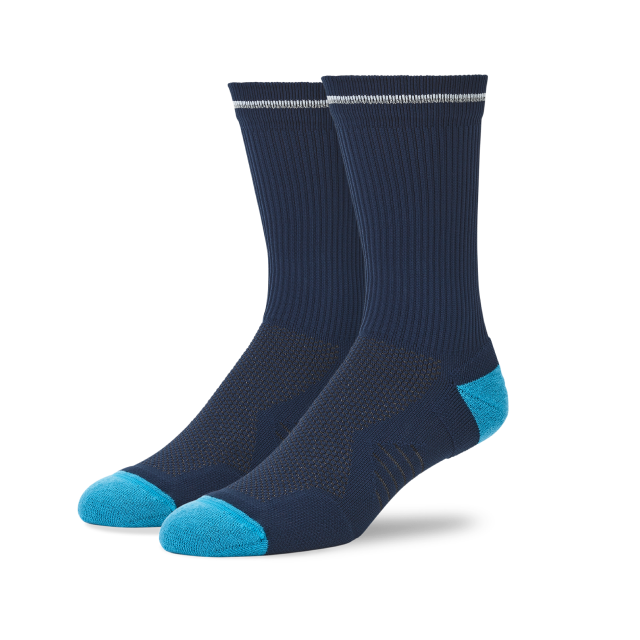 1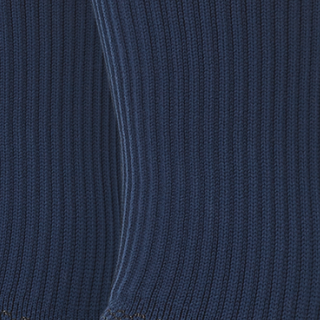 2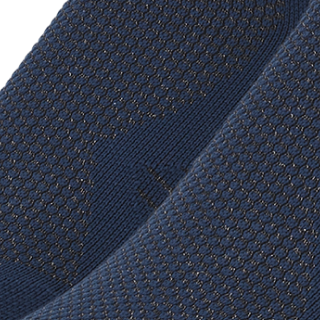 3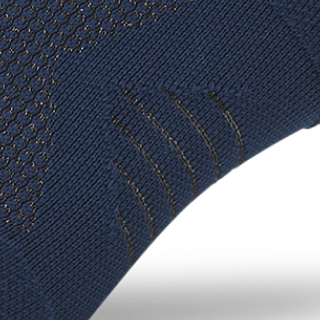 4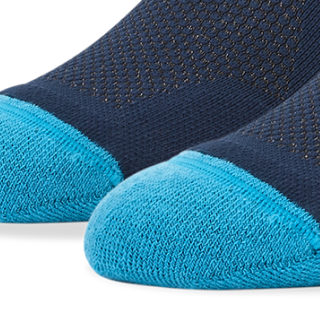 5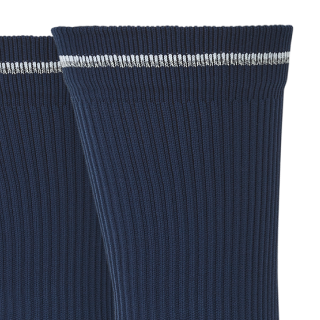 Every Detail Matters
Anti-odor Ionic+™️ silver

Targeted cool zones

Compression footbed

Cushioned heel & toe

7" cuff height
Size Guide
Fit

One size fits most (shoe size 9-13).
BUY MORE SAVE MORE!
Create an account to start saving from your very first order. Here's what you can look forward to:
Free shipping on your first order if you spend over $50

10% off $100

20% off $200
If you have an account you'll automatically enter our Weldon Blue loyalty program after your first order and lock in a lifetime of free shipping. Once you spend $200, you'll unlock 20% off every order.
Free Returns Always
Our return process varies depending on the product and whether or not you've tried it on. For underwear that you've tried on, see What is your Try On Guarantee? For underwear still in its original packaging and for all other products, we accept returns on anything that's unworn and unwashed within 30 days of purchase. You can choose between a refund to the original payment or store credit.
• Return: To process a return for a refund or store credit, see How do I make a return?
• Exchange: To process an exchange for a different size or style of the same product, see How do I make an exchange?.
• Gift Exchange: To exchange a Mack Weldon product that you were given as a gift, see How do I exchange a gift?
• Guest Order Return/Exchange: To process a return or exchange for an order placed using Guest Checkout, see How do I make a return if I ordered as a guest?
Free Shipping
Free Shipping is provided for all Weldon Blue members and orders over $50 in value, otherwise this option costs $5.00 in United States and $8.00 to Canada.
Shipping
Times Most (but not all) orders placed in the morning or early afternoon Monday through Friday will ship the same day. Orders placed in the evening usually ship the next business day, while those placed on Friday evening or during the weekend ship the following Monday. 
All ship times listed are estimates and can vary based on when your package leaves our warehouse. You may receive your package faster or slower than the averages shown below.
United States
Northeast
May 12 - May 13
Southeast / Midwest
May 13 - May 14
West
May 13 - May 15
Hawaii / Alaska
May 15 - May 16
Canada
Ontario, Quebec, New Brunswick, Nova Scotia
May 15 - May 17
Prince Edward, Manitoba, Alberta, British Columbia, Nunavut
May 16 - May 18
Yukon Territory, Northwest Territories, Labrador, Newfoundland
May 18 - May 19